Great Decisions Make Valuable Products.
It is important for leaders to know how to bring technology and business functions together to make the right decisions at the right time at the right level to develop products customers want to buy. This eight week program is a must for Executives, Product Manager, senior line executives, corporate and board level executives to better meet business objectives.The program uses a combination of workshops and individual attention to improve your ability to increase product value through productive decisions at all levels.
You will master application of the revolutionary Product Value Decision Making Framework that focuses on the value to your customers and company across all stages of the product lifecycle transcending the twists and turns of getting from product development to cash flow.
Learn which decisions to make in order to keep marketing, sales, operations and service collaborating productively with design, engineering and manufacturing. You'll master how to keep the team working in sync to launch successfully.
Learn to identify and guarantee that the right decisions are made at the beginning of the product development project.  Recognize how to revisit decisions to keep the product moving forward.
Utilize a tool that visually communicates the complex decisions, risks and progress required to generate buy-in across functions and departments.
Keep your product project from getting stuck in quicksand. Include the partners required to get responsible decisions.
From pre-launch decisions all the way past launch - make sure the right decisions are made at the right level of authority within the necessary and critical time frame.
Decision brinksmanship: you'll learn how to prevent the decision log-jam using value criteria, data and effective interpretation and communication.
So you lived through launch; master how to capture and quantify the value created for customers and the company.
Post launch decisions:  Use the framework to decide which "fixes" are required to sustain product excellence and customer value.
Maintain product/business value and avoid sudden loss with regular reviews through application of the decision making process.
Develop your professional toolkit for responsible decision making.
Receive your program completion certificate and celebrate!
Who Is this For?
Product Managers and Product Marketing Execs
Business owners wanting to scale
Execs frustrated with costs & low value from investments in

new product development
innovation and research
customer facing technology key to customer retention
C Suite: CEO, Founders, Funders; CPO, CTO, CFO
Line execs: IT Execs, Functional Leads
Tactical Tech Professionals & managers who require strategic communication skills to advance their career opportunities and contribute to a business decision making process
Influencers who are charged with thought leadership in business value creation across technology silos
How is it conducted?
The program is conducted over eight weeks using a combination of interactive projects and individual attention. You will learn the product value decision making framework and apply it to your real world, complex issues and live situations. You will come away with an ability to increase value through productive decisions at all levels.
Tuesday nights
6 - 9 pm
Dates October 4, 11, 18, 25 November 1, 8, 15, 22
What You Get
Mastery of the decision making framework from top-down, cross-functional to bottom-up
Understanding of how timing and quality of decisions impacts "value of the product" and loyalty of customers
Framework for making productive decisions across the entire product team and organizational levels
Individualized attention to your professional specialty and product project
Included materials: Hardcover textbook, hand-outs of practice materials, additional resources covering principles, methods and tools
Product Value Decision Making Facilitators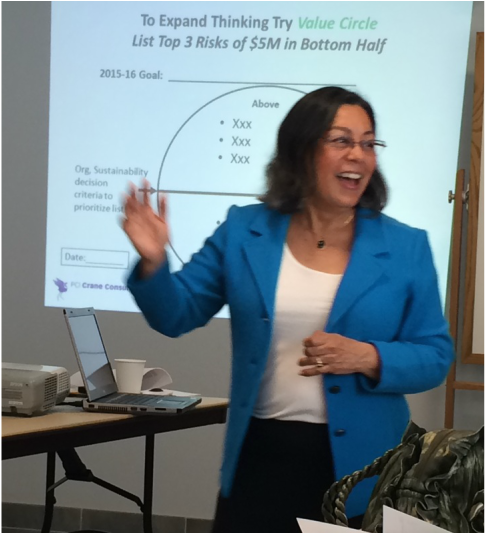 Darlene Barrientos Crane - Business Growth and Decision-Making Consultant  
Darlene is a Business Growth Consultant with over two decades of experience as a Financial Services Group Product Manager, Strategic Enterprise Project Manager, Master Business Growth Advisor and author.
Darlene worked her way into IT Program Management and became a Group Product Manager at Bank of American by taking on the toughest projects.  She earned recognition for helping teams deliver amazing results. Darlene has researched and invented enhancements to methodologies to better connect the living experience of products and project teams to the customer.   While working on large scale projects, she researched and developed MBA level curriculum to document principles and practices strategic product management not typically taught in MBA programs. She taught 1000 graduate MBA and MS students in Technology Innovation and Business Value.
Her framework for business decision making for business and technology investments helps senior Product Managers get the right decision to the right decision maker at the right time and is published in her text book titled, Executive Accountability: Creating the Environment for Business Value from Technology
. The book, a multi-disciplinary and balanced approach to product development decision making, was published in 2003 to expand on decision making issues not addressed in academic theoretical works.
Darlene works with businesses to realize and reach their full potential in a shifting and uncertain environment. Darlene's passion is improving the experience of developing and taking products to market to grow strong companies led by responsible decision makers who use financial and non-financial perspectives.  She served as Executive Director of a non-profit advancing access to capital for underrepresented entrepreneurs to ensure the power of the product development process was accessible to highly motivated diverse entrepreneurs.  She continues to create innovative programs accessible to all.
Cindy F. Solomon, CEO, SUPA Product Academy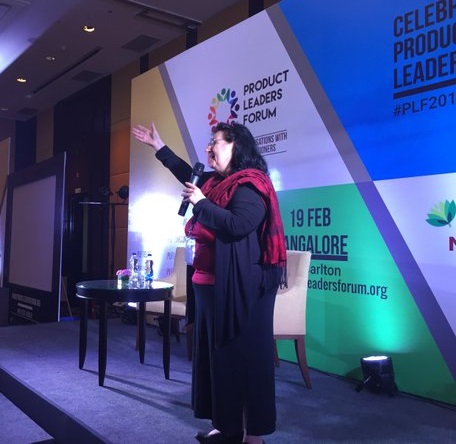 Cindy F. Solomon is a passionate product professional concerned with the deeper issues involved in bringing worthwhile products to market and accelerating businesses based on the "Product Excellence by Design" principles she developed over 20 years of working with businesses in Silicon Valley, and previously as an entrepreneur in New York City.
Solomon founded SUPA Product Academy to provide innovative approaches and experiential learning opportunities that forward critical thinking for product leaders, executives, passionate product people, practitioners and product management organizations. Solomon's entrepreneurial journey began with the TRS80, selling hardware, writing about technology to launch Breakthrough, The Innovation Newsletter for Boardroom Reports, computerize a marketing firm and generate investment for a startup before she turned 30. She is a product marketing thought leader, product management educator and customer experience expert. Solomon conducts Product Therapy weekly and showcases thought leaders at The Product Summit conference. She hosted the Global Product Management Talk, a top 10 business podcast on the BlogTalkRadio network reaching .5 million listeners, showcasing thought leaders and innovators.
Solomon is a contributing author to several books, including "42 Rules of Product Marketing" and the Guide to the ProdBOK, Product Management & Marketing Body of Knowledge. Solomon brings over 20 years of driving successful product marketing initiatives at enterprise level and early stage software, hardware, web development, services, and software product organizations including Apple, Vadem, NetObjects and start-ups in Silicon Valley. She holds CPM/CPMM product management certification.